Gift ideas for home and garden
Everything about Christmas at home
To festively ring in the Christmas season, we bathe our home in a sea of lights indoors and outdoors. And something to look forward to: with gifts from blumfeldt, you will be well prepared right at the beginning of the new year to make your home oasis of wellbeing in the great outdoors even more beautiful and comfortable.
Time to light the Advent crown: Lights for bright eyes
Our blumfeldt Dreamhouse Classic LED fairy lights are a real all-rounder at Christmas time: Pleasantly bright, and they not only decorate roof edges, house walls, entrances and windows; they can also adorn twigs or fir branches to highlight your domestic living room.
Waterproof
Low heat development
For indoors and outdoors use
160 robust LEDs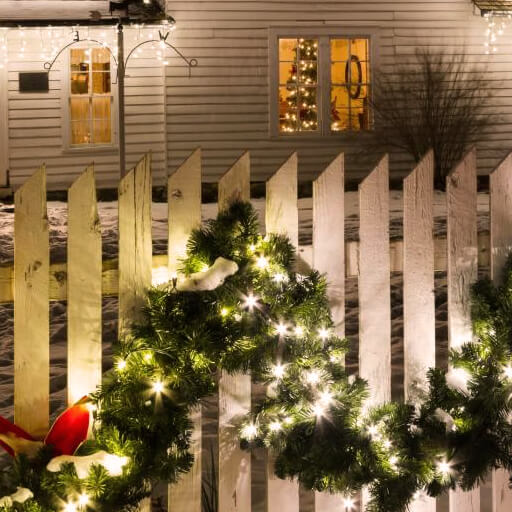 A magical Christmas accent for the front garden and terrace is provided by our blumfeldt Hanami CW 180 light tree, shaped like a cherry blossom. Thanks to the well-formed 336 LED lights, it is not only a real eye-catcher but also provides a warm glow in the evening twilight.
Individual design through flexible branches
Easy installation
Low energy consumption
10m cable line for flexible positioning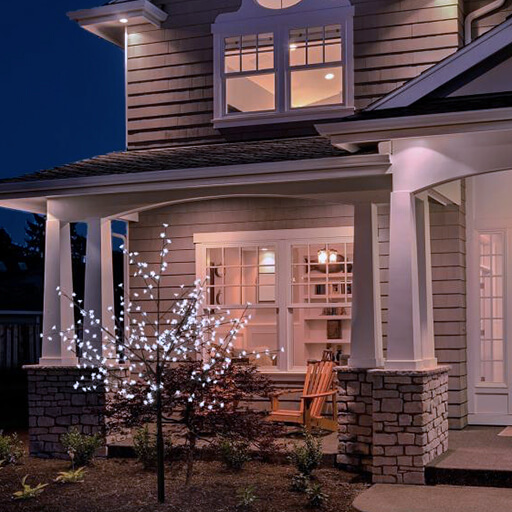 Christmas fir sprigs with decorative luminosity. It doesn't just give a special touch to house entrances and garden fences, but also shines as a glowing Christmas wreath for the door and table.
Hard to distinguish from real fir sprigs
120 integrated LEDs full of radiance
Inconspicuous power supply, thanks to a green-coloured cable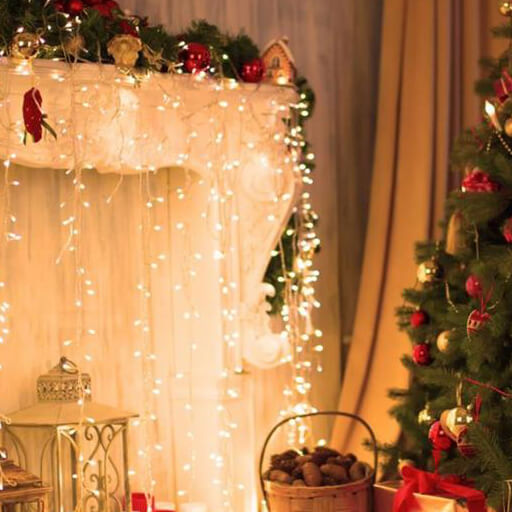 Gift ideas for friends, family & garden lovers
Despite the wintertime, we look forward to getting our outdoor spaces going again next spring. Yet another reason to excite our loved ones by getting gifts for gardening, etc, in time for Christmas. From relaxing rippling fountains and eye-catching figurines to massive fireplaces for delicious BBQs and cosy sitting areas under the open sky - there is something for everyone at blumfeldt.
---
5 Christmas tree tips: From buying to decorating
1. Find the right Christmas tree
The snow falls softly - but the pine needles do not! That's why we prefer Nordmann firs to spruces. These keep their needle coating significantly longer and do not pierce the skin - that makes decorating much more pleasant, doesn't it? A small tip: Freshly felled trees with FSC or Demeter certification are especially recommended, as they not only last longer but also come from sustainable tree cultures - completely without mineral fertilisers or pesticides.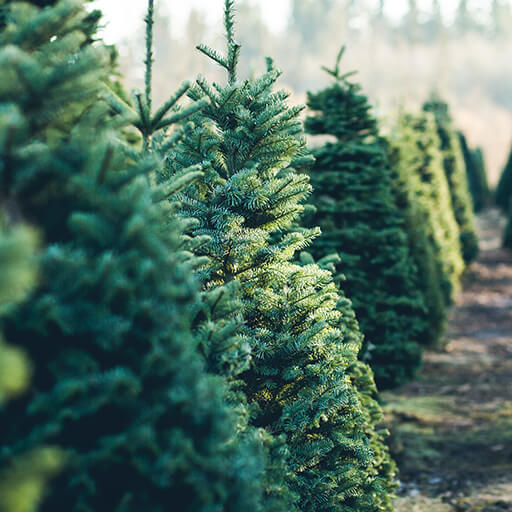 2. Transporting the Christmas tree
When picking up the Christmas tree, we wrap it in a separator trawl to protect its branches. Luckily, this service is included for most traders. Once at home, we cut the trawl from the bottom up - so the branches are not in the way, or kinked.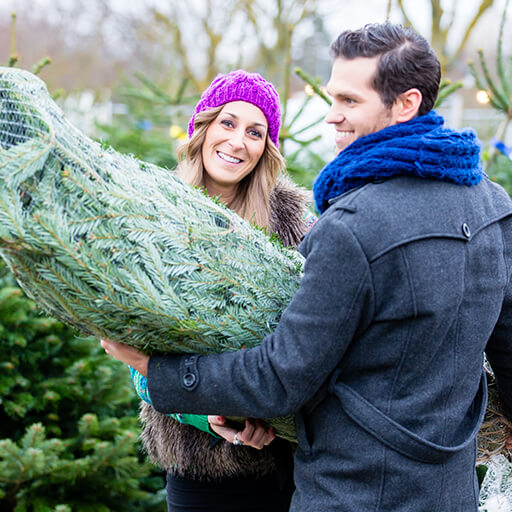 3. Set up the Christmas tree
A Christmas tree stand equipped with a cable and water tank has two significant advantages: Firstly, we save our strength, which we will need later on for gift shopping. Secondly, it stays fresh so much longer. For larger specimens: Do not forget to refill.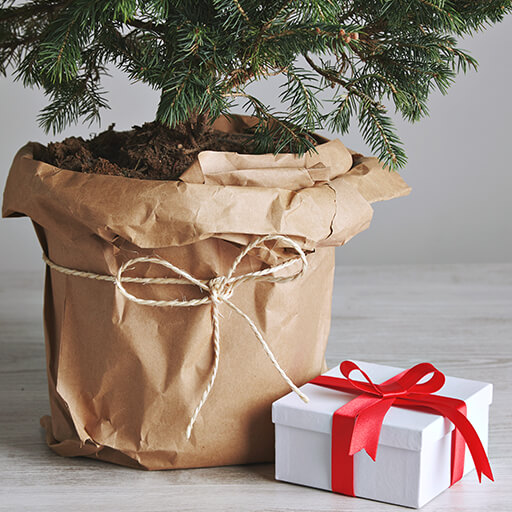 4. The perfect place of the Christmas tree
We avoid proximity to heating, fireplace or direct sunlight - heat causes the Christmas tree to dry out and lose its needle coating. In addition, it should have enough space so that its shape and branches are not crushed and it can unfold its full splendour. This also applies to the height: If the tree is too big, we carefully take off a part of its tip.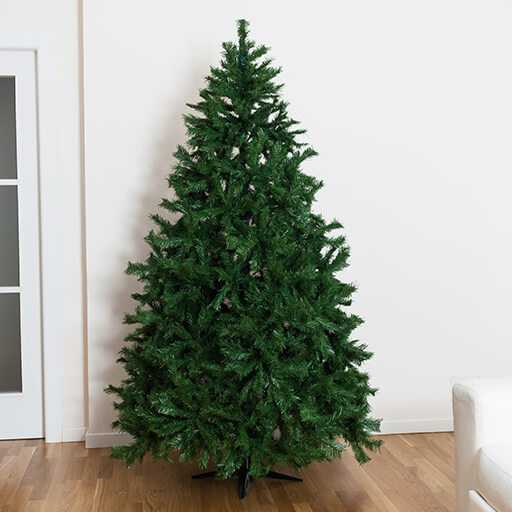 5. Strategic tree decoration
Big or small, we give our Christmas tree a day to stand before decorating it, so that it will be in perfect shape on Christmas Eve. The fairy lights make up the first layer, allowing us to conceal their cables craftily. We then start with bigger balls at the bottom and continue upwards with smaller ones. Decoration highlight: A shining star at the treetop.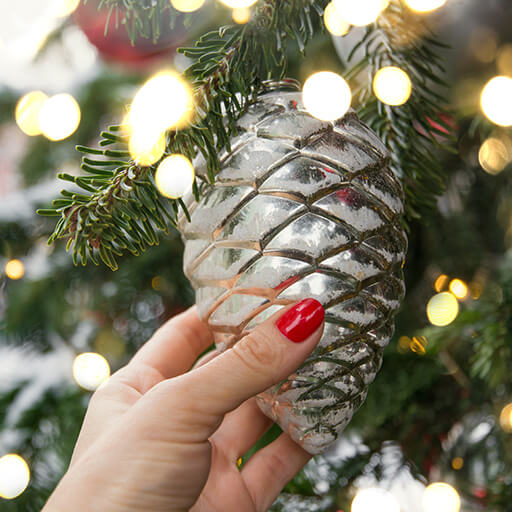 ---
For the living room to the conservatory:
DIY Christmas decoration
Every year it's the same: hardly any other occasion encourages decorating as much as Christmas. We'll tell you here how you can conjure up various decorative elements for the festival of love easily and individually. And best of all: we can directly build parts of our Christmas tree into this - we even decorate it sustainably!
from dewy fir branches
We often cut off a section of the treetop, or branches that are too long around the bottom part of the fir.
These are ideal for decorating: Whether they're between candlesticks, as a bound wreath with lights and dried fruit, in a vase with tree decorations, or loose on the windowsill: Everything can be used.
made of wood with a rustic charm
Another Christmas decoration idea is the use of tree discs - for example, those that can be sawed off the remaining tree stump after felling the Christmas tree. When dry, they are used in all sizes as decorative coasters, decorative candlesticks, or stacked in a contemporary shabby chic-style pedestal for plants, gifts, or lamps. Versatile and without the need for classic craftsmanship, we can create things with sustainable natural products. It doesn't get more unique than this!