Disposal instructions
The responsible disposal of old electrical and electronic devices ("WEEE") is important to us. As a responsible retailer, we have met the requirements placed on us by financially supporting the national network of WEEE recycling centres established by local authorities.
The following rules must be observed for disposal:
Every consumer is obliged to dispose of WEEE separately from household waste. You can recognize WEEE by the following crossed out wheeled-bin symbol: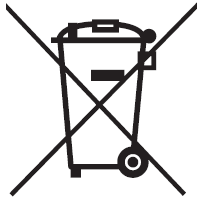 Please do not throw equipment with the crossed out wheeled bin symbol in your household bin.
The old devices can be disposed of free of charge at the local recycling centres. To locate your nearest recycling centre and to find more information on WEEE recycling please visit Recycle More: https://www.recycle-more.co.uk/.
Proper disposal will:
ensure a properly monitored and controlled recycling process,
prevent hazardous substances from leaking out and causing soil and water contamination which could harm wildlife and the human health.
Please note that the consumer is responsible for the deletion of personal data on the electrical or electronic device.
Our WEEE registration number
We are a member of Valpak compliance scheme under the number RM06917, as well as Valpak's Distributor Take-back Scheme (DTS).